Riflessi Milan Design Week 2019
Riflessi, a renowned Italian furniture manufacturer, will set to present its many novelties during the 2019 Milan Design Week, with the cooperation of Bruno Tarsia Studio and called "Step by Step".

The contemporary elegance of an environment that does not fail to combine style and freshness. Metal touches and bright colours give life to an energetic space with character without neglecting the comfort of a welcoming and involving atmosphere. This is the leitmotif that characterizes the Riflessi style during the Design Week in Milan.
A game of steps that never start or finish takes us on a journey around the edge of space so that we can think about abstraction, and then be brought down to earth with the aid of matter. This is the scene Riflessi.
Step by step, reflection is stimulated by inverted perspectives, geometric constructions and visual ambiguity and we enter a world where the coordinates of reality are lost and the true stars are Riflessi furniture and complementary items, the only elements that appear concrete.
Step by step, Riflessi is widening its range of products, which this year will include bookcases, sofas and easy chairs, ever closer to achieving a total look for living rooms.
Once again Riflessi chooses a house in the city but surrounded by greenery, in an advertising campaign designed by Bruno Tarsia and photographed by Lorenzo Pennati and featuring the new version of the Treble table with drop-down top, the elegant Freewall bookcase, the Gio chairs with handbrushed brass legs and the beautiful York armchairs.
Freedom to imagine, plan and create a living room, but also to divide areas with Freewall, the first bookcase presented by Riflessi.
Customisable with the many Riflessi finishes for both the structure and shelves, the standard Freewall model comes with a graphite painted metal frame and hand-brushed brass shelves that enhance its slim profile.
The choice of wood with the innovative ceramic insert characterizes the Riflessi tables, which add that particular natural effect enhanced by the metal finishes of the legs.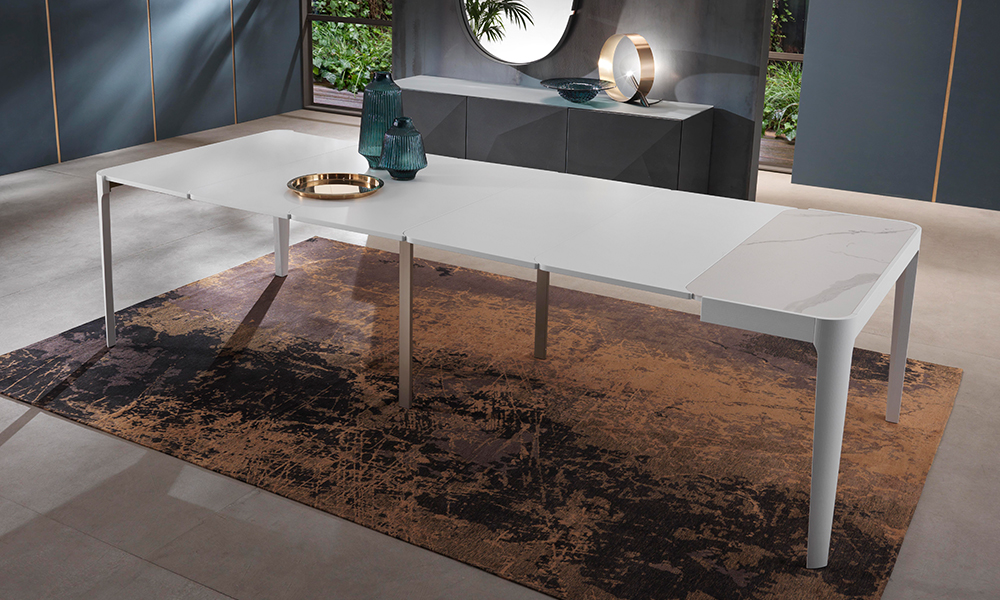 New fixed or extendable console Cross
Extending console with structure in walnut stained open pore ash wood, thermo-treated coke, white or honey oak.
Ceramic top in Statuary white, Savoy stone grey, Savoy stone anthracite, glossy Noir Desir or glossy Calacatta gold. Wooden extensions matt lacquered white or anthracite.
New fixed or extendable wooden table Cross
Table with structure in walnut stained ash wood, thermo-treated coke ash wood; open pore ash wood staine white or honey.Top in Statuary white, Savoy stone grey, Savoy stone anthracite, glossy Noir Desir or glossy Calacatta gold. Extensions in matt lacquered white or antracite wood.
Planet, a splendid lamp resulting from the company's latest experience in the academic world, which dealt with the subject of illumination. Riflessi recently began cooperating with the Department of Architecture of Naples Federico II University, in particular with the students attending the Master Degree Course in Design for the Built Environment.
The students were involved in designing new illumination equipment and some of their experiments were brought to life by putting them into production. This was the case with Planet, previewed at the 2019 Fuorisalone.