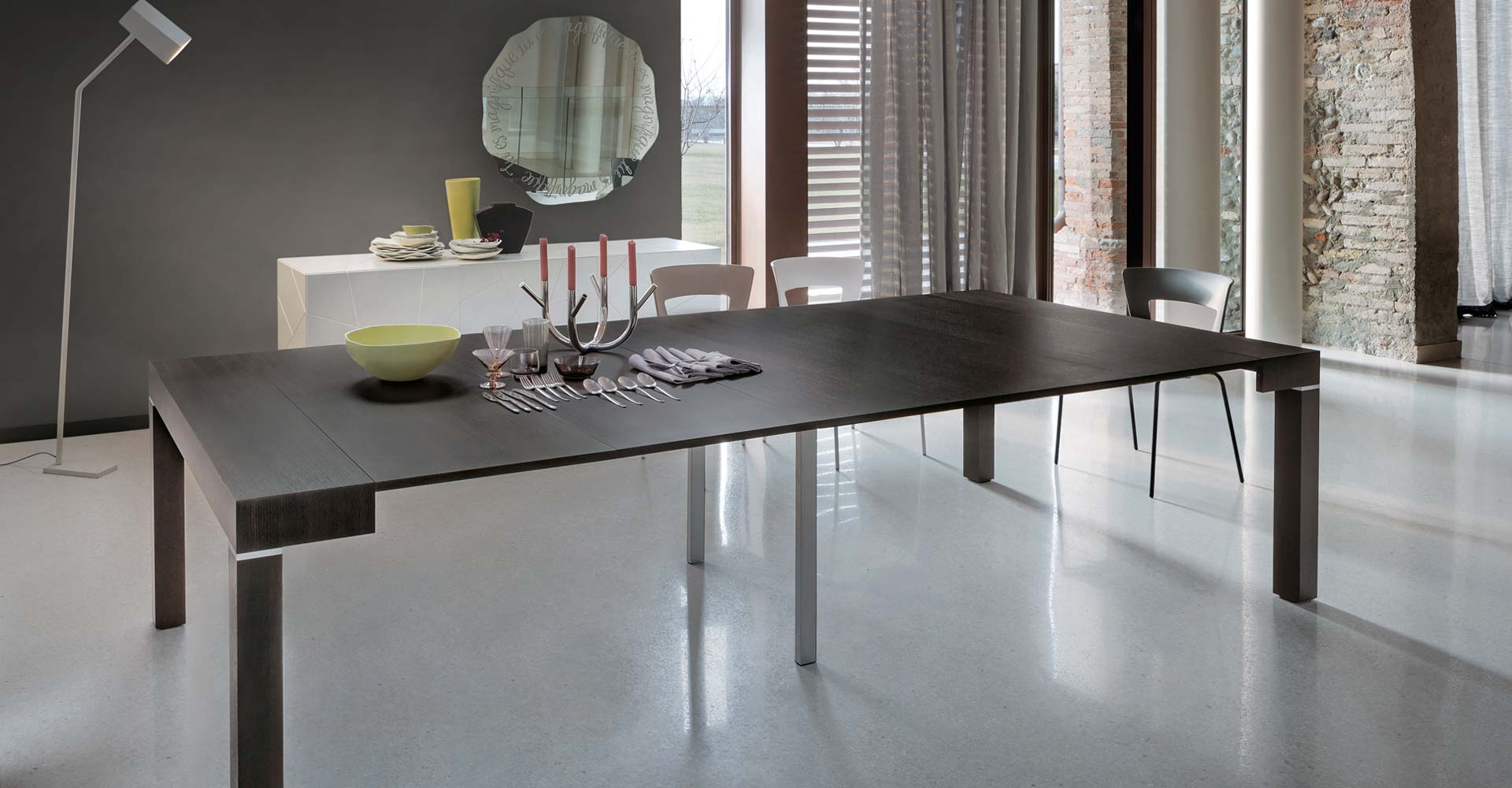 Riflessi has revolutionized the concept of using space, which becomes flexible and changes according to the needs of the moment. A point of view that involves all those who want a product with high technological and functional performance.
Our bestselling P300 transforming table expands from a 50cm console table to a 3m dining table.
Standard finishes: matt white lacquered, open-pore oak dyed white, coke oak and honey knotted oak.
Finishes upon request: open-pore oak dyed: cherrywood, grey, tobacco, wengé, natural, walnut, honey and ash-grey; lacquered RAL range colors open pore/matt.
Thanks to the new PRACTICAL, FAST, MANAGEABLE and INVISIBLE PATENTED telescopic extensible system.

The mechanism is made of champagne-colored anodized aluminum, with a double retractable leg with locking mechanism. Occupies only 5 cm thick when it is closed, making itself invisible to the eyes when the console is closed.
It is a revolutionary console! Which imposed a new concept and a new way of using space.

There are also three intermediate widths 90 (R300), 110 (Q300), 130 (P300) cm, really tailored to every need. The console also exists in versions P190, Q200, R200 extendable only to 2 meters with three extensions (without concealed central legs).
The P300 extendable console turns into a comfortable table thanks to a special retractable mechanism!
With the new semi-automatic mechanical opening system, the central legs of the console are retractable and are moved inwards, so as to avoid clutter when sitting on the central sides of the table. Not just for small environments. A single gesture allows an almost unthinkable transformation: the modular extension allows a small console of 50 cm to become a table that reaches the maximum length of 3 m!